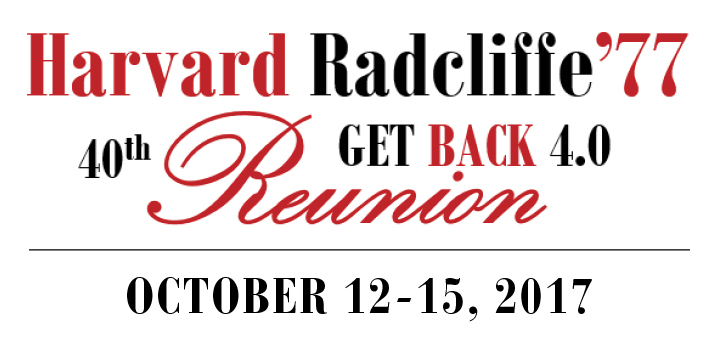 We're pleased to let you know that your ever faithful Class Committee is in the process of moving our 40th Reunion Space Capsule to the 4.0 launch pad in Cambridge. Mark your electronic calendars for October 12 - 15, 2017. Here's a list of action items for Getting BACK 4.0 style:
1) "Harvard Key": Claiming your "key" enables you to log in to our secure website, access our online Class Report platform and much more. If you have not yet claimed your HarvardKey, please register today at https://key.harvard.edu/

.
2) Pre-Reunion Gatherings: Thanks to the tireless efforts of classmates Andrea Riedy and Kathy DeBoer, HR77 Get Back 4.0 starts this spring with a series of pre-reunion, classmate-run gatherings in April. Reconnect with old (and meet new) friends at the local level. It won't be the same without you! All events are open to all members of the class. Spouses/guests are cordially welcome.
Boston - 4/30

Chicago/MidWest - 4/23

Fairfield/Westchester - 4/23

Los Angeles/San Diego - 4/22

Miami/Palm Beach - 4/29

New Mexico - tbd

New York City/New Jersey - 4/22

North Carolina - 4/23

Philadelphia/Princeton - 4/23

San Francisco Bay Area - 4/23

Seattle -4/22

Washington DC - 4/23
Please click HERE to get all the details and RSVP. The deadline for registration is Tax Day! Questions? Email Andrea (Postlethwaite) Riedy or the HAA.
3) 40th Class Report: Whether or not you plan to join the 4.0 fun in October, you can really let your presence be felt by submitting an entry for our 40th Anniversary Report. Past

Red Books

have proven to be a remarkable way to share personal triumphs, trials, and tribulations. Your submission---be it long or short, factual or philosophical---will become an important archival document of the history of the Class of '77. The world is a different place from five years ago and even more so since our graduation, but we are still all part of the Class of 1977, and this is a way to show that our Class ties remain steadfast and enduring. Please do share your thoughts and views with all of us. We ask that you complete your submission via the Class Report website, http://harvard77.reuniontechnologies.com. A paper questionnaire will also be mailed to your preferred address in March, if you want to do it the old fashioned way. The website is secure and password-protected, accessible with your HarvardKey. The deadline for submissions is April 21st so click here to start your engines!
4) Reunion Schedule:

COMING SOON -

until then click HERE to check out last year's 40th Reunion of the Class of 1976.
5) Reunion Housing:
We strongly encourage you to begin making your plans early. For obvious reasons, campus housing will not be available to fall reunions, so we will also be sending out

information about area hotels

where we've blocked rooms.
6) Class Committee: We'd love to get as many classmates as possible involved in our reunion planning! Please contact us if you'd like to join our reunion engagement and planning efforts. Here are some urgent needs and ways for you to get involved now:
Pre-Reunion Gatherings

Outreach

Communications

Longitudinal Study

Class Report

Events/Parties

Symposia/Panels/Dialogues

Memorial Service/Choir

If you have any questions or ideas you'd like to share, feel free to contact us. We look forward to seeing you next October at Harvard!
Alison Clarkson & Jim Berkman
P.S. from your Webmaster Alex Tilt: Please feel free to browse and reminesce about our GetBack 2.5, 3.0, and 3.5 Reunions by clicking here. If you wish to relive the 3.5 Gala Dinner Dance, grab a glass of your favorite libation and check out Rob Bunzel's action packed photos here (thanks Rob - See you in October!).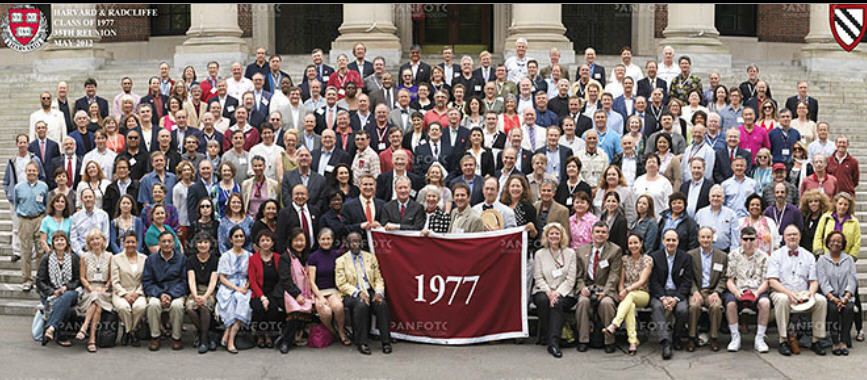 Upcoming Events
FEATURED

5:00PM - 8:00PM Sat 29 Apr 2017

FEATURED

4:00PM - 7:00PM Sun 30 Apr 2017