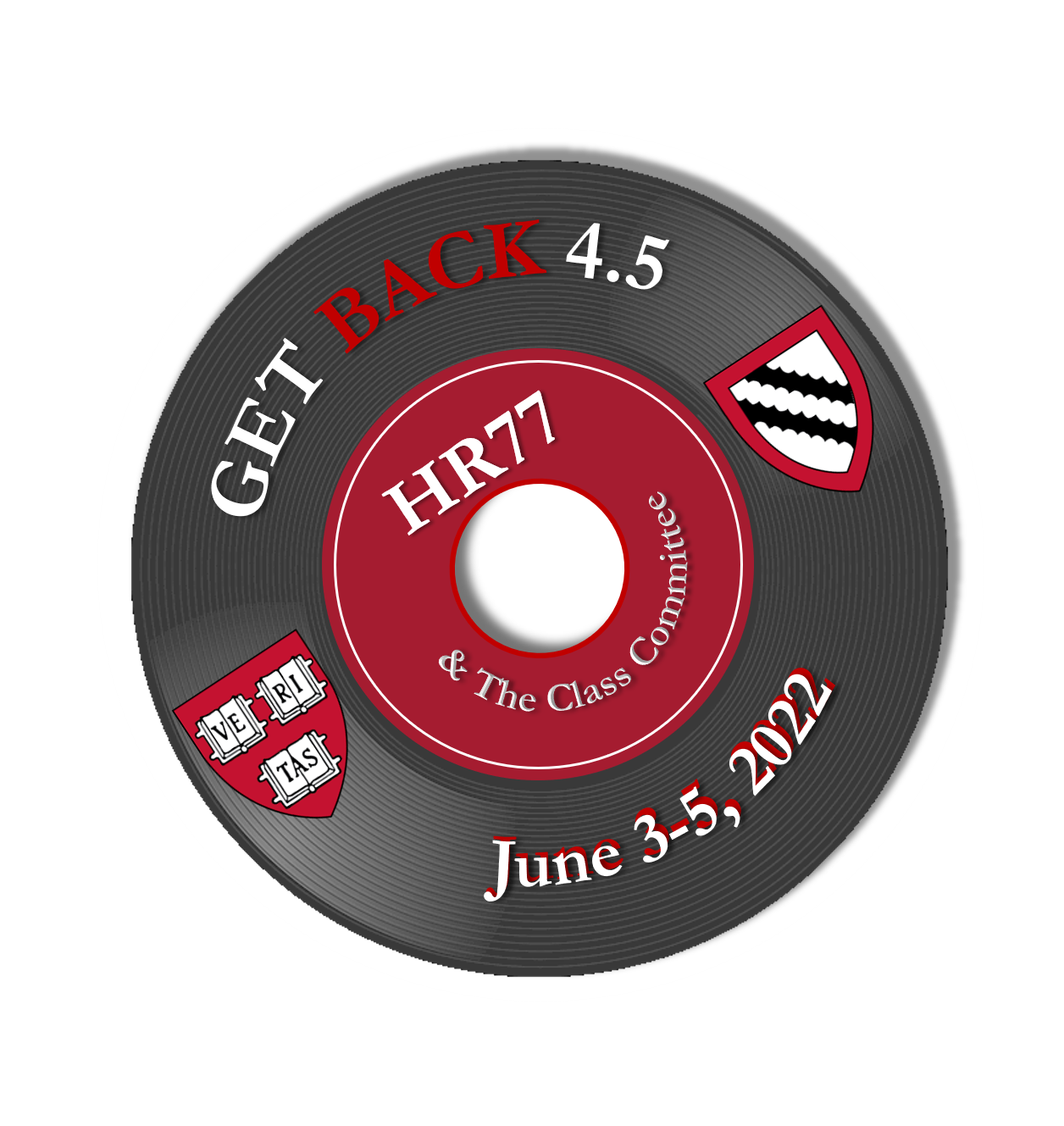 Get Back 4.5 Post-Reunion News
It's the Ides of March! So a reminder -- sign up if one of these Ides is you:
Ide like to sign up for Living Creatively in our Outlook and Pursuits on Sunday, March 19.
Ide like to sign up for Mentoring: Contributing to the Next Generation and Enriching Our Own Lives on Thursday, March 23.
Ide like to sign up for Coming to Terms with Aging and Mortality on Monday, March 27
Ide like to sign up for Evolving Relationships with Spouses and Partners on Wednesday, March 29.
Sign up at https://1977.classes.harvard.edu/article.html?aid=243
_________________
TOP HITS & UPCOMING EVENTS
Do you miss the stimulation of gathering with classmates now that our reunion is over? There are lots of ways to Get Back and engage with classmates, as we move forward through our Next Chapters and on toward our 50th Reunion. Why not start now?
Personal Reflection Discussions
At our 45th June reunion, we held a number of small group discussions on more personal topics affecting our lives. Starting February 16 and going forward through the spring, we're pleased to offer additional opportunities to connect with classmates on a wide range of interesting topics important to our lives' Next Chapters. Click HERE to find out more and sign up.
REMAINING TOPICS, DATES & FACILITATORS
Living Creatively in our Outlook and Pursuits (3 session topic): March 19, April 17 & May 21; Facilitators: Cynthia McCallister and Debbie Vilinsky
Mentoring: Contributing to the Next Generation and Enriching Our Own Lives: RESCHEDULED to March 23 at Noon ET; Facilitator: Tom Phillips
Coming to Terms with Aging and Mortality (a second offering): March 27; Facilitator: Anna Storniolo
Evolving Relationships with Spouses and Partners over Time: March 29; Facilitator: Arlin Green
Better Later Than Never: Aging and How to Feel Good About it: April 20 *; Facilitator: Margaret Drickamer
---------------
* With option to meet for further sessions if participants are interested.
Climate Change and the Class of '77 – Learning and Moving into Action Together
Learn more and make a difference,
through individual and collective classmate efforts!
For additional detail, click HERE
Thanks to those who provided input at the kick-off session on Climate Change Action on March 9th. On every topic, the group identified helpful ideas and suggestions. In addition, there were several requests for ways to get more input between meetings. We will get out a quick recap in the next few weeks.

As individual and collective next steps, participating classmates are asked to:
C

ommit to reduce your carbon footprint by 45% by 2030 and

create a

plan to do so a provided application

Write your Governor

to advocate for their leadership in using the funds from the Investment Retirement Act to address climate change challenges

.

Share your plans and progress with your classmates using a provided Action Tracking Sheet
We hope this Group's efforts will allow classmates to learn from and be encouraged by each other.
Contact Peter Dunn at peterdunn@pdunn.com to ask how you can participate.
Be well. Act well.
Peter Dunn, Carol Fisler, David Gardiner, Callie Hancock
HR77 Longitudinal Survey
You can watch the recorded video of the 1/25/23 presetnation of theupdated results from this year's Study. We gathered by Zoom on January 25, 2023 to discuss updated study results. The session focused on three of the most provocative questions raised by data:
How are our lives, priorities and values changing as we move ever deeper into this next chapter in our lives?

How has the life experience of women in our class differed from that of men, and why?

How are we coming to terms with the "ultimate" questions, such as our mortality, legacies, and spirituality?
To view the recorded session, click HERE and the presentation slides, clickHERE.
___________________
SAVE THE DATE
Get Back 5.0, June 1-5, 2027
___________________
Want other ways to engage in HR77 Get Back activities as we move toward our 50th reunion?
Continue to visit our HR77 website for updates and announcements.
View

Zoom Gathering recordings

of pre-reunion or Saturday, June 4th sessions you missed.
Visit

Stories 4.5 Vimeo Showcase

to reflect on the ways our classmates express themselves creatively. And please consider adding your own video about what motivates you
Under the Program tab, follow topic-specific webpages of Next Chapters in our Society — for continued engagement opportunities.
Visit our

HR77 Get Back 4.5 Photo Booth

to see a collection of classmate pictures from the Reunion, sorted by event. You will need your Harvard Key to access it (for assistance

https://key.harvard.edu/

).
Join our

Get Social HR 77 Facebook page

for classmate news.
Look back at the June 2-5, 2022 reunion schedule and events.
HAVE fun!
___________________
As always, we'll leave the Get Back lights on: