Pre-Reunion Regional Gatherings -
RSVP to Seattle on May 7, 2022
Get

Back

4.5

continues into early Spring with gatherings in

Seattle

.
Come take those memories out for a spin AGAIN!
Reconnect with old friends and meet new ones. All events are open to all members of the class. Spouses/guests are cordially welcome. These are NOT fundraising events. They are run and funded entirely by fellow classmates for the pure pleasure of your company.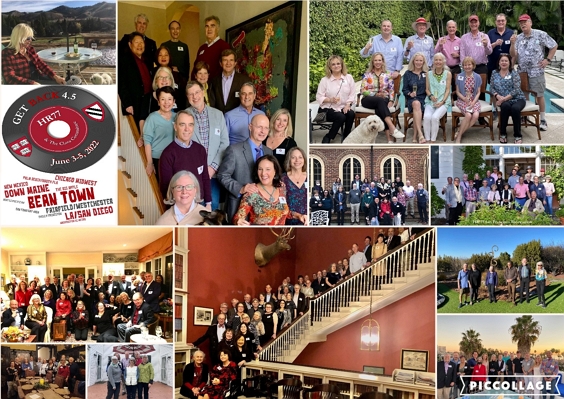 Seattle/Pacific Northwest – May 7, 2022
Hosted by: Dan Taylor.
Location: 8114 SE 74th Place, Mercer Island WA [RSVP here]
Afternoon Cocktails, Appetizers and Conversation

Home of Dan and Suellen Taylor

Indoors and outdoor deck

Casual and comfy (bring some layers for the deck)

Masks optional based on your comfort level

Buffet with variety of hot and cold hors d'oeuvres

Wine, beer, spirits and soft drinks

Easy and convenient parking in the neighborhood
A BIG THANK YOU to all the classmates who hosted and sponsored the November 2021 PRGs!
Event Coordinators
Kathleen DeBoer* and Andrea Postlethwaite Riedy
Hosts
Karen Bromberg Firestone

Boston

John Challenger

Eric Larson

Chicago / Midwest

Henry Mueller

Fairfield / Westchester

Marcy Shaffer

Russell Meyer

Los Angeles / San Diego

John Spritz

Maine

Joe Tripodi

Miami / Palm Beach

Lisa Popick Blum

New Mexico

Laurence Golding

Stephen Younger

New York City

Steven Mullin

Philadelphia / Princeton

Abby Homans Wilder

San Francisco Bay Area

Dan Taylor

Seattle / Pacific Northwest

Mark Howe

Washington DC Metropolitan Area
Sponsors
Thomas Barrette

Carrie Minot Bell

James Berkman

Charles Coolidge

Nathaniel Foote

Renee Landers

Ann Minois

Suna Murray

Michael Payne

Robert Peabody

Carol Robey

Karen Rosenkrantz

Nunzi Sapuppo

Joan Soble

George Ticknor

Boston

Charles Bergen

Diane Lauderdale

Scott Meadow

Anna Maria Storniolo

James Thomas

Chicago / Midwest

Claudia Alleyne

Mary Emerson

Michael Gisser

Carla Hall

Dawn Hudson

Marc Guren

Brad Jones

Los Angeles / San Diego

Ross Johnston

Alexander Tilt

Miami / Palm Beach

Lani Desaulniers

Lisa Oppenheimer

New Mexico

David Bronston

Kathleen DeBoer

Andrew Frackman

Pamela Hogan

Peter Homans

Deborah Korzenik

James Lavin

Ruth Liebmann

Jennifer Marre

Henry Mueller

Thomas Phillips

David Poor

Alex Tilt

Joan Warner

New York City

Rozlyn Anderson Flood

Arlin Green

Julia Klein

Philadelphia / Princeton

Gordon Atkinson

Rob Bunzel

Edward Diao

Fung Lam

Felicia Marcus

San Francisco Bay Area

Teresa Barger

Travis Brown

Kathleen DeBoer

David Gardiner

Allegra Hamman

Victoria Judson

Kevin Kallaugher

Bill Maroni

Andrea Postlethwaite Riedy

Washington DC